I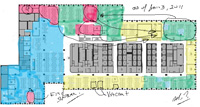 recently had a chance to talk about space planning with David Spence from OfficeSpace at The Facilities Management Show in the UK where I was an invited speaker.
His experience confirmed my own observations – I see that for many companies, space planning in Facility Management hasn't progressed much beyond the manual process I was using 20 years ago.
Very few Facility Managers and Office Managers seem to get the tools they need to properly manage and track space and occupancy. These tools are critical for a more efficient operation and more importantly, they are critical for collecting, analyzing and using information to make occupancy decisions that can save your company money. After all, the cost of space, whether you own it or lease it, is among the top expenses for most organizations.
When I started in Facility Management as a space planner, I used a paper based space allocation form to estimate space needs and paper block plans to draw out the space assigned to groups and the space I was moving, relocating or re-assigning. While they were usually based on CAD furniture layouts, it was basically a manual, paper process I used to manage space and manage moves. Since I was in the process of shifting almost 2000 people during an asbestos abatement project in a 1 Million Sq.Ft. corporate facility and repatriation from leased space into our owned corporate facility, I needed other tools, so I also used a spreadsheet to track total space and do some adjacency planning.
It seems that many are still using a fairly manual process, and missing out on opportunities along the way.
Much like other FM System software (whether it's IWMS, CAFM, CMMS, etc.) for maintenance, lease adminisration, help desk services and more, which I've talked about before, I think the problem is the same.
Facility Managers work for organizations who don't understand why we need the tools to do the job, and many Facility Managers aren't able to battle other departments closer to their organization's core business for their share of funding. The reality is, without the right tools, Facility Managers have a harder time making changes and reducing costs for their organization.
As part of my new research oriented website, FMinsight.com, I created a survey on the topic. This short survey adresses a key cost to our organizations – space – and how we manage it. Often the 2nd highest cost behind payroll, it doesn't always get the attention it deserves.
By participating, you will receive the full results once the survey is closed. It's a short survey, so please contribute. While you are there, check out the other FM surveys and polls on timely issues in Facility Management, including move management, FM practices and Roles & Responsibilities.
You can visit FMinsight.com here: FMinsight – Surveys, Polls & Research for the surveys and polls, including preliminary results.