Webinar originally held live April 25, 2012. Duration: 30 Minutes.
Do you know what your occupants think about their work environment? If you don't ask, you won't know what you need to improve or change.
Facility Managers are often fearful of what these surveys may reveal, but instead of shying away from the answers, you can use results to your benefit – to make decisions, build a business case and get more resources, systems, tools, etc.
With web enabled survey tools, they are easier to do and easier to report and analyze than ever before. All it takes is the right kind of questions and just a little time to get more information you can use to make decisions and improve service.
This webinar will show you what you need to know. Michel will cover techniques to develop your survey questions, how to administer them, why and how to conduct transaction and decision maker surveys, example questions, how to analyze results, and how to how to use information for decision making and business cases.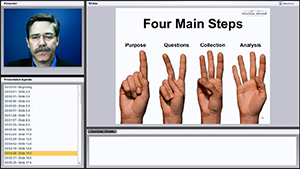 Do you want to do an Occupant Satisfaction Survey? We can help. Email us or check our our Survey Services provided though our FM Insight Consulting Services. get the webinar recording link, you need to register as a member for free. After you log-in as a member, the link will be visible to you below.