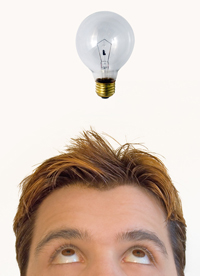 In my Webinar on Information Based Decisions (see the link below), I spoke about getting and using information for your benefit.
While you need an FM system and should work towards getting approval and implementing one, if you already have one, the question is whether you use it for information, not just process management. Whether you manage space with a CAFM system manage maintenance with a CMMS system or handle other typical Facilities Management responsibilities, information is king and visibility into your operations are critical to your success.
This time, as an expansion of what I talked about in the Webinar, I'd like to focus on the two challenges to getting and using information.
Challenge # 1 – Do you even have an FM System?
The first challenge is that you need a Facility Management System in the first place, particularly as your organization grows. It's usually a challenge for FM's to get approval for and get the resources to make it happen.
In my webinar with Planon Software, we did a poll and only 52% of the participants had an FM System. Another 18% have an in-house system. Pretty good figures compared to other surveys, actually, but not high enough.
My own survey at FMinsight.com so far shows only 43% with a system of any kind, and this is consistent with the IFMA Benchmark Report #28 that reported the same 43%. My survey is still open for you to participate, which entitles you to receive the full results once the poll closes instead of the basic results others will have access to. Contribute here
While our webinar participants seemed to be better off than others, we don't really know what kind of system the 18% who indicated they have an 'in-house' system have, so it's hard to tell.
If you look at the overall results, there is still a huge gap in the tools we have to do our job. In my survey, I also asked how important it was to have a system and 90% said Very Important or Highly Important. That doesn't fit with the low results of 43% who actually have a system.
As an industry, we need to do a better job of getting the tools we need. If your portfolio is small, a well managed spreadsheet or database may get you by for now, but you will eventually want more. For larger organizations who still don't have some sort of FM System, I'll bet your finance department has a system, your HR department has a system, your logistics/production group has a system, your corporate call centre has a system, and so on.
There are many ideas and examples for justifying it, it just takes time to put together and sell, but you should start the process sooner rather than later. Focus on what your boss really cares about, likely cost savings, time savings and risk mitigation. Use a strategic process to sell it, including asking some software vendors to do a demo for your boss – they are much better at selling than you are!
Challenge #2 – Are you taking advantage of your FM System?
Even though almost 70% of the webinar participants indicated they had a Facility management system of some kind, both off-the-shelf and home-grown, they probably still struggle with the same things many FM's struggle with, how to translate the data their system collects into information they can make decisions with. That's probably the reason for the participants joining the Webinar.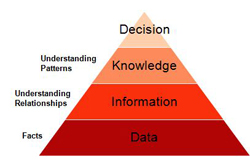 To illustrate one of the issues, I use this pyramid. It is meant to show that you need to take data, which may be overwhelming, and convert it to information. Then combine it with your experience to get knowledge, and only then is it useful for a decision.
Systems can easily track data and spit it out for you. Canned reports are usually just data. Graphs may provide data or information, depending on how they link and represent data. A good reporting tool either as part of your system or an add-on enables you to turn that data into information, but you can also import it into excel, combine info, and create graphs showing trends over time and comparing two sets of data, for instance. Use the Pivot Table function, a hidden gem of a feature in Excel that helps you convert data to information.
Of course, you need good data in the first place. Make sure you have what you need and it is reasonably accurate. But don't have too muh data – only track what you can use to manage your processes and more importantly, to make decisions with. Accuracy or detail are also something you need to manage so you don't end up overwhelmed with detail or spend too much effort getting detail or accuracy that simply doesn't matter when you make decisions.
One of the impediments to using the FM system information effectively ends up being time and resources. In some of my operational reviews and benchmarking for clients, I often find that one issue Facility Managers have is a lack of time to really review, analyze and use the information available to them.
Hopefully if you implemented a system, you included resources to manage and analyse the results.
If you didn't, you need to make a chang. Either take the time yourself, assign someone from your staff or hire someone to analyze it and develop useful decision making information. It's a common bottleneck in the whole process and can render your system less effective.
An often overlooked issue is that unless you can show to your staff and your boss that the output from your system is useful and provides value, you will lose support, and your staff will probably be less enthusiastic (and accurate) when they input into the system.
In addition, you will have foregone a key part of your FM system. Don't just use it to manage process flows, use it to drive information you can use to make decisions with.
If you'd like to watch the original webinar, Planon Software has made it available here
Get the White Paper
[s2If current_user_can(access_s2member_level0)]
Drive Results with an FM System
[maxbutton id="11″]
[/s2If]
[s2If !current_user_can(access_s2member_level0)]Please Login or Register for access[/s2If]