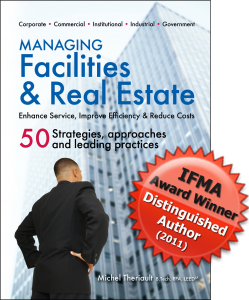 Winner, IFMA's Distinguished Author award, 2011
Want a Random 66 page Preview?
Managing Facilities and Real Estate has become increasingly complex. Facility and Property Management is a profession that requires technical knowledge, managerial skills and leadership qualities to deliver service.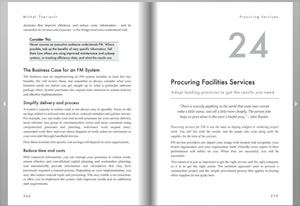 While many Property and Facility Management professionals have technical skills or can easily access training and resources for technical issues, effective leadership, management and strategic skills and tools are increasingly important for Facility professionals in all roles to get results, get attention and get ahead while serving your organization's core business needs.
Available in Print from Amazon :
Do you want an electronic PDF version?
It is now available on our Consulting website here : PDF FM Book
So far, Facility Managers in over 25 countries have bought copies. Buyers included individuals working at in-house FM departments and individuals and companies providing outsourced FM delivery. Many service providers to the FM industry have bought copies as well. Some bought multiple copies for their staff. Many others have bought locally or online from other sources.
Visit Michel's FM Consulting Website

Whether you manage a single building or a portfolio and whether you manage a corporate facility, government office, institution, retail, manufacturing or a commercial building, you have similar challenges and will improve your results with the techniques from this book.
"Michel Theriault introduces competencies – ones often overlooked in other industry books – that can elevate the role of facilities management and corporate real estate professionals to a strategic level in the organization." – Diane Stegmeier, Author, Innovations in Office Design: The Critical Influence Approach to Effective Work Environments
You get 50 strategies, techniques and approaches you can use to improve results and build on your technical knowledge. They include checklists, forms, tools and ideas you can use immediately. They are all self contained and easy to read and reference, yet are assembled in specific areas. You don't need to read it back-to-back. Use your limited time to focus on specific initiatives and benefit from the leading practices and ideas you need to get results.
The main areas of the book include the following, with the full table of contents listed further below:
Management & Leadership
Strategic Management
Communicating to Influence
FM Systems
Procuring Services / Outsourcing
Managing Performance
Customer Service
Cost and Productivity
Reference Information
Since networking and learning from others is so important to the profession, the references section includes a long list of industry magazines, associations and conferences around the world as well as a listing of other useful FM books that complement this one with more technical or tactical information or other key aspects of the Facilities Management role.
"For years I've been telling facility managers that FM is now a business function, not a mechanical one. I don't expect to see my facility managers walking around carrying a screwdriver.  In this book, Michel drives this point home." – Dean Stanberry, Real Estate and Facilities Leader & IFMA Foundation Trustee
This book delivers ideas and concepts you need and can use right away to improve efficiency, enhance services and reduce costs. It includes checklists and sample forms and other tools you can use in your day-to-day job to improve results. Once you buy the book, you get access to MS Word versions of the tools for use in their own organization.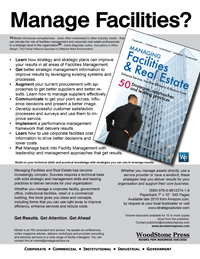 ISBN: 978-0-9813374-1-8
Publisher: WoodStone Press
Paperback, 7″ x 10″    532 Pages
Table of Contents
Preface
Management & Leadership
Defining Facility Management
Facility Management Competencies
Promoting FM in your organization
Leadership for FM
Facility Managers Don't Have All The Answers.
Defining Facility Management
Strategic Management
Strategic Planning
Developing Mission, Vision Statements
Conducting a Health Check
Using Information for Decisions
Getting Information
Intelligent Benchmarking & Beyond
Thinking Into The Corners
Communicating to Influence
Influence with Your Writing
Influence with your Presentations
Getting Approval with Business Cases
Writing Newsletters
Communicating Green initiatives
Developing Procedures
FM Systems
Can an FM System Help Me?
Information from your FM System
Implementing an FM System
How Do I sell it to Management?
Surviving the Integration Trap
Procuring Services
Procuring Facilities Services
Developing Effective RFPs
Evaluating Your RFPs
Selecting a Janitorial Service Provider
Outsourcing FM Functions
Make your company flexible through managed services
One Step Re-Engineering through Outsourcing
Outsourcing Integrated FM Services
The Outsourcing Stay-Back-Team
Developing an Outsourcing Partnership
Getting Performance
Managing Performance
Supplier Relationship Management
Service Performance Assessment
Service Review Meetings
Measuring In-House Performance
Defining Service Levels
Developing Key Performance Indicators
Applying Six Sigma work in Facility Management
Performance Dashboards
Customer Service
Customer Service in Corporate FM
Developing Customer Service
Measuring Customer Satisfaction
Satisfaction Survey Examples
Walk of the VIP
Costs and Productivity
Facility Cost Allocation Drives Behavior
Lifecycle View: Total Cost of Ownership Saves $
Talking Numbers with your CFO
Boost the bottom line with cost reductions
Reference Information Resources
Other FM Related Books
Magazines
Online Portals
Associations
Conferences
Designations
Index
About the Author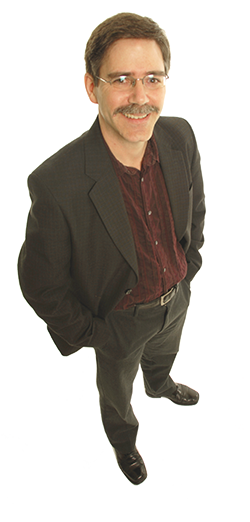 Michel Theriault is the Principal and Stratetic Advisor with FM Insight. an FM consulting firm providing strategic solutions for organization to get results, reduce costs and improve effectiveness.
This includes operational and organizational assessments and design, system and process implementation, supplier and performance management, transitions & change management, customer service, training and surveys.
Michel has extensive experience with improving service, reducing costs and property/facility management services in-house, with the largest outsource provider in Canada and as a consultant to Facility Managers.
In addition to this new book, Michel contributes articles to leading Facility & Property Management magazines in several countries on strategic and management topics as well as delivering seminars at National and International conferences.