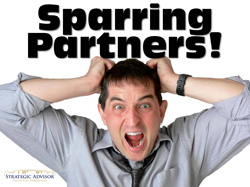 I had the privilege of speaking at The Facilities Show in May. My seminar is based on a cover article I wrote for Building Operations Management Magazine called 'Sparring Partners' (email me for a copy of the article) and focused on the 3 ways we fail to develop a strong partnership with our service providers and what has to change in how we procure services, structure contracts and financial models and manage performance.
After all, it is critical to our success in FM to have service providers who are also successful and the old-school approach that is founded on an adversarial relationship that takes more time and energy than it should to manage, distracting us from strategic and business responsibilities.
At my session, the theatre was full and there were many people standing around the edge of the theatre. While this is a challenging environment for a speaker, it seemed to work well enough. Judging by the audience interest and the feedback I received after the session, the issue is just as important in the UK as it is in North America. As usual when I deliver a seminar, a lucky audience member won a draw for a free copy of my book "Managing Facilities & Real Estate"
The FM profession in the UK is very active, with a number of annual conferences, many magazines and several related associations, including BIFM, RICS, FMA and even IFMA to choose from.
The Facilities Show is a very large event that is free to attend. It combines typical facilities seminars and trade show booths with a security, safety and fire show under one roof. All these elements are of interest to Facilities Management professionals depending on their responsibilities. Like most conferences and trade shows I've been to, it has it's unique position in the market – they all have something to offer.

The show floor is quite large, with over 200 exhibitors in many different categories and many more in the other related shows for security, safety and fire, which are co-located with The Facilities Show.
In the FM Show, there are two large 'seminar theatres' which are out on the show floor instead of having the educational sessions in separate rooms. Holding about 50 people with room to stand as well, the seminar theatres present short, concise 30 minutes sessions with only two concurrent streams, one at the main FM seminar theatre and the other in the Sustainability theatre. If you want, you can spend your time at a theatre and see every seminar instead of having to choose.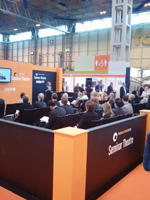 With 31 seminars, there are fewer seminars than in some shows in North America, however because of the way they are presented, you could actually attend more seminars here than most other FM shows. A drawback is that they don't offer continuing education credits for those maintaining a designation.
I've included the complete list of FM seminars further below, along with the speakers.
As a speaker, and with some existing contacts lined up, I managed to have some very good discussions about the FM market in the UK with local facilities professionals. From what I can see, it is consistent with other developed markets – there are some leaders, particularly in large, sophisticated owner-occupier organizations, but for the most part, many professionals in the Facility Maangement profession are struggling to get attention from their organizations and to get the tools they need to manage better.
As I said when I spoke to the IFMA Abuja chapter members in Nigeria earlier this month, many of their issues developing the profession are not as different from other more developed markets as they think and the industry as a whole still has quite a ways to go. Perhaps that's why the limited supply of books I brought with me were quickly snapped up.
It also looks like the UK has a very well developed third party / outsourced integrated FM market that rivals what exists in North America, a trend that seems to exist across Europe. In fact, some of the players in the market in Canada today have their roots in Europe. There is even an association, the FMA, that is specifically for FM supplier organizations.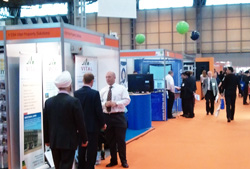 In planning my trip to the UK, I also took the opportunity to meet with instructors from the Liverpool John Moores University where they are currently using my book for their Facility Management module. The FM module is part of the School of the Built Environment program for professions such as building surveyors.
I was impressed with their passion to deliver practical instruction and tools to their students that will broaden new graduates understanding of the FM profession as a business function, not just a technical function.
A Masters program in FM is currently being developed. Since it will be a distance learning program, it doesn't matter where you live and work. If you want to learn more, contact the University.
The complete list of FM Seminars, along with a link to the speaker bio, is listed below:
Engaging the workforce – Liz Kentish, Chair of WiFM
The profile of FM – Julie Kortens, Head of Corporate Services, (BIFM's FM of the year) , Channel 4
Engaging suppliers – Diana Kilmartin, Director of Property and Facilities, Three UK
Engaging the CEO – Steve Gladwin, CEO , Hochtief FM
Engaging the room – Debra Ward, Managing Director, Mitie Client Services
Music in the workplace – make sure you're legally compliant – Richard Stewart, Head of Tariff Development , PPL
Selection and assessment of contractors' – Megan James, Audit Services Team Leader, Safecontractor
Sparring partners' – managing service agreements – Michel Theriault, Principal, Strategic Advisor , International FM Consultant
From Risk to Compliance – Paul Caddick, Operations Director, PHS Compliance
Delivering value in FM: Innovation and adapting to today's economics – Hosted by Ian Broadbent, Chair of BIFM Ismena Clout, Deputy Chair and Stuart Harris, Deputy Chair
Music in the workplace – make sure you're legally compliant – Richard Stewart, Head of Tariff Development , PPL
FMJ Debate – From TFM to outsourcing: is this the future for facilities management?
Host: Edward Finch, Professor in Facilities Management,Salford University
Debate Panel: Alistair Craig,Director, Serco, Barry Varcoe, Head of Global Corporate Real Estate & FM, Zurich Financial Services, Dave Wilson,Director, Agents4FM, Mark Kitchen,Head of Business & Support Services, Interim Partners, Debra Ward, Managing Director, MITIE Client Services, Barry Hardy,Director, BBH Technical Solutions
Do you want to manage your land efficiently? – Richard Hilton, Business Development Manager, PBA
Ring the changes – a cost-effective way of looking at your call handling – Glenn Jackson, Managing Director, Moneypenny
Fire! Sorry false alarm! – Tony Hanley, Director, FIA
The RICS Professionalising FM debate: How to unlock more value from an FM outsourcing relationship – Paul Carder, Director of Research, Advanced Workplace Associates (AWA)
Advancing your career with the BIFM; A guide to BIFM qualifications and how they fit into the national framework – Valerie Everitt, Professional Standards & Education Director, BIFM
Ring the changes – a cost-effective way of looking at your call handling – Glenn Jackson, Managing Director, Moneypenny
Using the FM Supply Chain to Drive Innovation – Chair: Martin Pickard, FM Guru, Panel: Chris Hoar, Chief Executive, FMA, Nick Shaw, Director,Vinci Facilities, Fiona Perrin, Marketing Director,HSS Hire, Lucy Jeynes, Managing Director, Larch Consulting
Developing space and processes – Prof Michael Pitt, Professor of FM Innovation, UCL
Why implement PAS 55? – Peter Gagg, Consultant, MCP Consultants