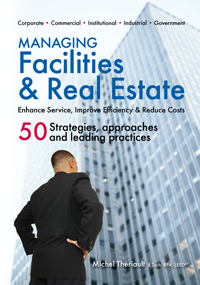 My Facility Management book is now available.
It's written for both new and experienced facility professionals, regardless of  level, function or the type of facility managed, who want to leverage existing skills and advance their career with leading business practices, strategy, management and leadership in FM.
$39.95  US Soft Cover  7″x10″  532 pages ISBN 978-0-9813374-1-8
$59.95 US Hard Cover 7″x10″ 532 pages ISBN 978-0-9813374-2-5
[wp_eStore:product_id:1:end]
(Ships worldwide. Standard service up to 6 business days for NA and Europe, 12 days elsewhere. Email for other options. Corporate, Wholesale, Educator or Academic pricing also available.)
66 Page Random Preview or More Information or Ask me a Question

Whether you manage a single building or a portfolio and whether you manage a corporate facility, government office, institution, retail, manufacturing or a commercial building, you have similar challenges and will improve your results with the techniques from this book.
[important title="Testimonial"]"This book covers a lot of ground far beyond the day to day Facility and Property issues. It provides Facility Managers with best practices management techniques that are routinely used by successful senior managers and executives to ensure their operations are running effectively and more importantly, provides the reader with strategies for continual improvement. " – Ron Swail, Assistant Vice President Facilities & Services, University of Toronto[/important]
The Facility Management profession is progressing rapidly into a strategic business role in addition to the traditional tactical and technical role. The challenges of managing facilities are driven by an increasingly complex working environment. This includes economic pressures from the companies we work for, a more demanding workforce, expanding environmental challenges and a higher degree of regulations affecting facilities and real estate.
Since I've been writing magazine articles and delivering seminars at facilities conferences about the business and management aspects of Facility Management for quite a while, I realized that I had lots of resource material on topics that a much broader range of Facility Managers could benefit from.
My new book, "Managing Facilities & Real Estate" brings together many of the topics I've already written or spoken about with expanded information and some new topics to fill in the gaps. Instead of covering topics that are readily available in other good gooks, this book focuses on the broad areas of management & leadership, strategic management, communicating to influence, implementing FM systems, procuring services and outsourcing, managing performance from suppliers and staff, customer service and managing costs and productivity. Within these broad areas, the book covers specific things like promoting your role within your company, strategic planning, benchmarking, KPI's, Service Levels, satisfaction surveys, writing business cases and more.
At over 500 pages, the book is comprehensive yet structured so you can read it in any order and use your limited time to focus on the topics that interest you or are of immediate concern to you in your job. The 50 sections are grouped under Management & Leadership, Strategic Management, Communicating to Influence, FM Systems, Procuring Subcontracted Services, Outsourcing FM functions, Managing Performance, Customer Service and Cost and Productivity
In addition, I've included a reference section with information on other FM books, FM portals, associations, magazines, conferences and even a variety of designations, including from international associations.