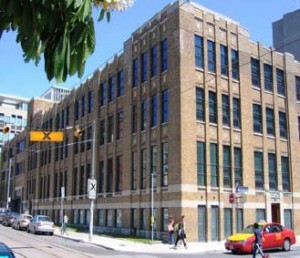 Facility Managers often give themselves and their departments the worst space in their facility. It's sort of like the shoe maker's children not having shoes. We give good, productive space to other departments, including other support groups like HR, IT, finance and others. Yet we often neglect the needs of our own staff.
In one example, the Facilities department of a major organization who both owns their own property and occupies leased space relocated to basement space in one of their corporate offices to give the better space to other departments. They actually resorted to mounting televisions throughout the office connected to surveillance cameras outside the building so the facility staff could get a glimpse of the outdoor conditions.
In contrast, Ron Swail, AVP University of Toronto,  made his Facility department's forced move –to make space for another department – into an opportunity. They already suffering from a poor location, tired furnishings and an old layout with too many enclosed spaces and corridors created over the years. Not only did it make the place feel like a maze, it wasn't conducive to team work and was very inefficient.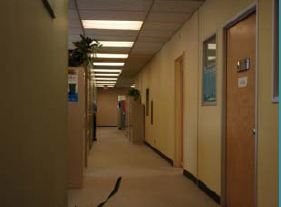 Instead, he made a bold move by relocating his facility department into a vacant warehouse building that was deemed inappropriate for faculty use. They repurposed it by transforming it into modern, productive, efficient space for his department and in particular, his staff. In fact, they ended up with a LEED Gold facility. They are now on the top floor and the rest of the facility is their new exam centre.
At the same time, he opened the door to more alternate work options and developed space that encouraged interaction, a positive working relationship between groups within his department and for his FM's to be out of the office and at the buildings they're responsible to manage instead of being cooped up in the office.
His previous space was a warren of corridors and space carved up with walls, enclosed offices and decades of files. I should know, I've been to his old office space. Ron presented his approach and the changes he made at a recent IFMA Toronto seminar. In one of the slides on Ron's presentation, just before the tour started, Ron talked about 'The Human Factor – The True Cost of Ownership" and presented a key life cycle building cost breakdown chart from ASHRAE that shows that the real cost of occupancy is the people costs while the original construction, ongoing maintenance and energy is a minor part. Ron felt that his old space adversely affected his team's efficiency, effectiveness and even morale. Hence the reason for giving his facility department better space.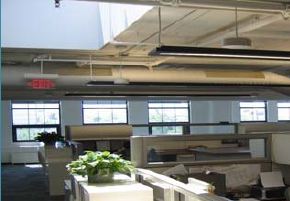 His department's new space, part of a recent IFMA Toronto building tour, is actually smaller in total sq.ft. than his old space, yet they seem to have more space and it is much more productive. They accomplished this with a more open and better designed furniture layout with pod based workstations and hotelling. In addition, they culled their files, either archiving, destroying or digitizing as needed. This was a hard step for many of the staff who had been at the old location for many years and had accumulated material they relied on.
He worked hard to foster staff engagement before, during and after the design and move. This was necessary because they established smaller office and cubicle standards, less storage space, more open areas and the range of techniques to improve office space that are not always immediately embraced by employees affected by the change.
In one great example, while trying to decide on how to decorate the space, Ron came to the realization that they had enough budding artists in his department that he could showcase their work with rotating displays. Talk about including the staff in their workspace.
I asked him how he was able to justify his new space, his answer was a typical 'leadership' response that more FM's need to adopt – it was the right thing to do for his staff to give them more productive and efficient space they were comfortable working in. Of course, it also set an example for the organization with modern office space, smaller allocations, open configurations and alternate working approaches. Doing the right thing and setting an example was a primary motivation – the tangible financial considerations were secondary, although the reality is they are probably more effective and have more satisfied employees in his department, value that is hard to measure.
Of course, just deciding to do something like this isn't enough. Ron had to be an active change leader and get his entire team involved in every phase of the project so they would buy-into, accept and ultimately benefit from the many changes they made to their work space.
He admits that the significant change he put his facilities department and staff through was risky, but he knew it was the right thing to do. Based on the new office space I saw and compared to what his staff had to put up with before, I'd say his risky move paid off.