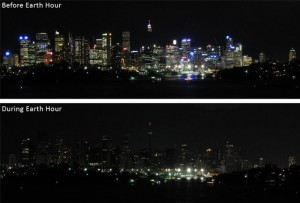 Have you seen media reports about Earth Hour?
By far, the images used most often to illustrate participation (or non-participation) in Earth Hour are buildings. Here is an older image that illustrates the point, by Ryan McCarthy.
Some of the recent media highlighted successful participation and others are talking about lagging participation. In the Toronto Star, they had photos of buildings that you would think would have participated, but were still lit up, such as the building owned by Ontario Power Generation and Toronto Hydro's building.
Either way, buildings that are dark, semi-dark or even fully lit are in the news everywhere. And that includes iconic buildings, ordinary office buildings and even homes.
Whether you participate or not, and whether it's a success, at least Earth Hour brings some attention to the matter, but the question is whether it makes a difference. Often, people who observe Earth Hour don't do much during the other 8759 or so hours in the year. And many only impact their own home. You have a chance to impact an entire building with a much larger environmental and energy footprint.
What matters more is our sustained efforts to promote and conserve energy of all types. And it's not easy these days. Yes, compact fluorescent bulbs are energy efficient and last longer, but they contain mercury, which is a significant health risk. Electric cars let you avoid burning gas, but to power your electric car, you are probably burning coal or natural gas to generate the electricity you need. If you figured you were using solar, wind or hydro generated electricity for your car, think again. You used up that generating capacity to light your house, power your computer, charge your cell phone, etc. Remember, there isn't much ecologically friendly energy to go around.
Since you manage a building or are involved in managing it, there are lots of very good things you and your Facility Management department can do to simply reduce energy consumption and make a significant impact on the environment or your organizations bottom line. And they don't have unintended negative impacts. The most interesting thing is that almost none of these techniques are new – many have been used for a couple of decades at least. What is new is the higher cost of energy and a growing awareness that we should do them even if they are a little more expensive (but much less so than in the past) or are slightly inconvenient to some people.
Lighting levels in the office environment don't need to be as high as they were in the past, with most people relying on a lit screen for their work, so look at your lighting and switch to lower wattage bulbs or disconnect some in strategic places. The next time you do a reconfiguration or relocation, get rid of exterior offices and use more natural light.
Install occupancy sensors, timers or lighting control systems to keep the lights off when not needed. Switch to day-time cleaning and eliminate the need for lights on after hours for the cleaners.
Either spend the time to monitor how your building systems operate or install controls and monitors. Then analyze system schedules and set-points and adjust to minimize energy consumption. Make sure you don't have systems fighting each other, switched to manual, not functioning properly, sensors, dampers, misers, etc. not calibrated properly, and if you have staged systems, they work as they should. Invest time and money in fine tuning how your building systems work and even have it re-commissioned (was it even properly commissioned in the first place?)
Re-evaluate your preventive maintenance program so you are doing routines that impact efficiency of the equipment as well as legislative and risk related maintenance. Don't just rely on standards for frequencies, assess your situation and change routine frequencies if needed, such as changing filters in dirty, dusty areas more frequently and changing filters in very clean areas less frequently.
And what about changing the set points in the building by a degree? Most people won't notice and those who do can dress appropriately. Depending on your facility and the culture within your organization, it may be worth a try.
Prepare your capital plans with energy conservation in mind. You may be able to justify something with energy savings that may not have otherwise been approved, or you can add energy conservation to each project you do for a nominal extra cost. Develop project/design standards that require the highest possible energy efficiency from equipment.
Even if you don't seek certification such as LEED EBOM http://www.usgbc.org/DisplayPage.aspx?CMSPageID=221 for your building, look at the requirements of the certification and implement what you can. For EBOM in particular, there are many practices and approaches that only take management time and effort, not capital investment, and surprisingly, they are the things that everyone should have been doing anyway.
As well, a little training and some communication will also go a long way by educating occupants and your staff about the things they can do around the building like turning off conference room lights if they aren't automatic, turning off their computers at night, setting their power saving options to turn off the monitor when the computer is idle for a period of time, etc.
Even if you don't need their direct participation in your initiatives, you need to communicate what you are doing so they will buy-in and reduce complaints about lighting, temperature and other things you do. In your communication, don't talk about how much money you are saving the organization. They don't care. Talk about the environmental impact, suggest that they are the ones who are making a difference, put the benefits in terms they can relate to, not technical terms and convince them to accept the initiatives as the right thing to do.
At the same time, you can promote your Facility department's contribution to a very important issue facing us today.