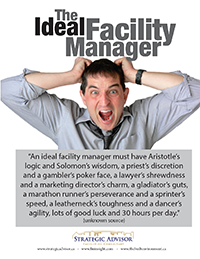 This is a quote I've had in my files almost since I started my career in Facility Management over 20 years ago.
Almost everyone in the Facility Management profession can relate to this.
If you want this to print and hang over your desk or share with your colleagues, the download link to the PDF file is further below along with the full quote


The Ideal Facility Manager
"An ideal facility manager must have Aristotle's logic and Solomon's wisdom, a priest's discretion and a gambler's poker face, a lawyer's shrewdness and a marketing director's charm, a gladiator's guts, a marathon runner's perseverance and a sprinter's speed, a leatherneck's toughness and a dancer's agility, lots of good luck and 30 hours per day."  –  Unknown Source
Get your free full-size PDF version of the Ideal FM Quote.
Visit the Resources section of this website from the menu above.