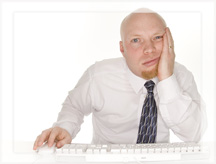 The best way for Facility Managers to get ahead is to keep on top of the latest issues, solutions, technologies and processes. The internet has made it much easier to access information, with the availability of content from magazines, online portals and blogs. But finding good resources isn't always easy, since the internet can be cluttered with content.
Two organizations are helping Facility Managers with the search by issuing their own list of resources. I was curious why they did it and of the many resources on the internet, how they narrowed it down to a handful, so I did the easy thing, I asked them.
Steven Hanks, from IWMSnews.com and Stuart Smith from Mintek Mobile Data Solutions gave me some insight into their methodology and process, as well as a little more information about themselves.
Here is what they told me:
20 IWMS, CAFM and CMMS Blogs To Watch
View the list at IWMSnews.com
In the last week of December 2010 we published our annual "20 IWMS, CAFM and CMMS Blogs To Watch", the 2011 version. Michel asked me to explain why we published this list, and more important why some blogs have been included where others haven't.
So, why do we publish the list of 20 IWMS, CAFM and CMMS Blogs To Watch?
We want to help the  industry in getting as much relevant information as possible on the various areas of interest to customers, service providers and vendors of IWMS systems.
What's more, we want help people spend less time on the Internet searching for relevant information, but simply to bring it to them in their favorite RSS reader. Therefore, for each entry in the list we have included the RSS feed!
To come to our list of 20 blogs, we have analyzed many industry blogs that publish on a variety of topics including: cost reductions, lease accounting changes, sustainability, GIS, IWMS, CAFM, etc.
Only those blogs that publish frequently, and are free of charge, qualified for being included our list. We have included blogs that we think are very interesting for most people in the industry, and we hope you will find them as interesting as we do!
About Steven Hanks

Steven Hanks is extremely enthusiastic about Integrated Workplace Management Systems. He has more than two decades of industry experience in the area of Facilities Management and Corporate Real Estate.
He's been involved in sales and consultancy projects for various Integrated Workplace Management Systems Vendors mostly as an independent consultant. In this role he was fortunate to be involved in all kinds of interesting environments and has met hundreds of extremely interesting professionals.
About IWMSNews
IWMSnews.com is about Integrated Workplace Management Systems (IWMS). To be more specific we publish about all kinds of topics that have to do with software solutions that help to optimize facilities management and real estate performance of businesses around the globe. In the marketplace these integrated systems are known as Integrate Workplace Management Systems.
Top 50 Asset Management Resources list
View the list at Mintek.com
The Top 50 Asset Management Resources list was created as a form of networking and to recognize industry leaders. It is also used  to get the name of Mintek out as a top resource.
I spend an hour or so a day reading blogs, articles, and reviewing industry news. Selection for the list is a result of this effort. As I see the same name, company and website/blog appear on a regular basis they are in essence establishing expertise or subject authority within the asset management field. I also look for creativity and a willingness to accept feedback. In other instances, a top resource may be discovered after contact, conversation or collaboration.
About Mintek
Mintek Mobile Data Solutions is a turn-key solutions developer providing access to customer, employee and asset information beyond the 'traditional office.'
Through multiple devices and platforms, we strengthen our clients mobility by providing key information as they perform their work in the field. Timely access to data provides for better business decisions that improve operational efficiency.
About Stuart
Stuart Smith, MBA, MS Entrepreneurship in Applied Technologies. He has over 20 years experience running operations in multiple industries. Stuart uses his knowledge of business operation processes to write about CMMS and EAM software solutions for Mintek Mobile Data Solutions as well as help new technology start-up companies.