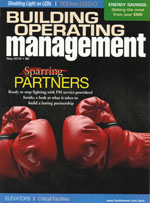 Sparring Partners : Outsourcing May Not Equal Partnership
Building Operating Management
My latest article was the feature article and appeared on the May 2010 cover. I took a very hard look at what partnership is and isn't as well as what needs to change in the industry.

Many outsourcing deals are referred to as "partnerships." Both facility managers and service providers use the word, so it may be easy to be lulled into a sense that an outsourcing deal is automatically a partnership.
But "partnership" is an elusive quality. Just like a marriage, it includes compromise and the realization that your partner isn't perfect and you aren't either.
The key to a partnership – the aspect that most distinguishes it from a typical buyer-seller relationship – is flexibility. In facility management, the outsourced service is complex, and client's corporate needs are constantly shifting. Rigid key performance indicators (KPI), strict contract terms and inflexible financial models – hallmarks of a typical buyer-seller relationship – make it difficult for an outsourcing service provider to change gears as the client's needs change. In a partnership, by contrast, there is a spirit of cooperation and trust that enables the service provider to address the client's issues and needs as they arise, without fear of being punished for having failed to meet a specific KPI.
For a partnership to work, a solid foundation must be laid from the very start.
Four questions – covering everything from goals to ongoing management – can help facility managers determine if they're on track to develop a true partnership.
Read the whole article online at BOM : Sparring Partners