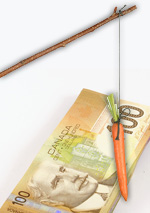 There's a lot of evidence that the typical Key Performance Indicator (KPI) methods of trying to ensure you get performance from an outsourced or subcontracted service provider don't work the way you think. In this Video (see below), Daniel Pink, author of "Drive : The Surprising Truth About What Motivates Us" presents research that tells you why.
I have personal experience on both sides of the fence on this issue and use KPI's with extreme care – it's better to put a measurement and management system in place to get the results you need, not a 'set it and forget it' KPI system where you simply measure success or failure after the fact and award a penalty or bonus accordingly.
The key take-away is that incentives work well for mechanical activity (think piecework) but not so much with more cognitive activity (like FM services!) and particularly not with professional, self-motivated people working in FM at all levels who truly want to do a good job and make a difference. There are other things at work, that Daniel Pink highlights in this presentation.
This Video, a presentation by Daniel Pink, is enlightening. It's also done in a very entertaining and engaging format. You may want to read his book as well.
ARVE Error: need id and provider

I've written on this issue in other blogs on this site and also on my main website, so feel free to browse. I also devote a section on measuring and managing performance in my book "Managing Facilities & Real Estate"
My article called "Sparring Partners" in Building Operating Management Magazine also covers this issue as well as many others related to developing a better relationship with your supplier, whether it's full outsourcing or Total Facility Management (TFM) or straight forward subcontracting.